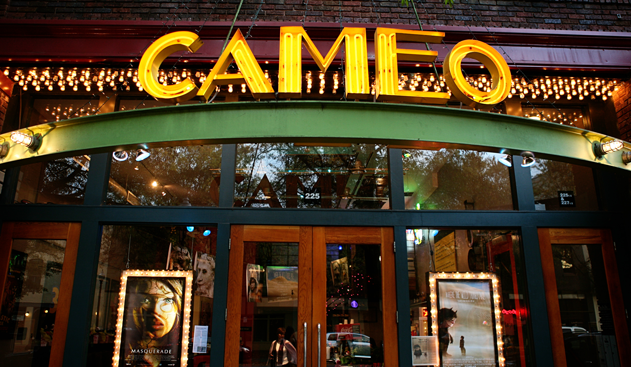 NOW SHOWING IN OUR MAIN AUDITORIUM:

Friday, Nov 28th: 1:00, 3:30, 6:15, 9:00
Saturday Nov 29th: 1:00, 3:30, 6:15, 9:00
Sunday, Nov 30th: 1:00, 3:30, 6:15
Monday, Dec 1s:t 5:15, 7:45 (Monday Shows Upstairs)
Tuesday, Dec 2nd: 5:15, 7:45
Wednesday, Dec 3rd: 5:15, 7:45
Thursday, Dec 4th: 5:15, 7:45 (Thursday Shows Upstairs)

Starring Eddie Redmayne ("Les Misérables") and Felicity Jones ("The Amazing Spider-Man 2"), this is the extraordinary story of one of the world's greatest living minds, the renowned astrophysicist Stephen Hawking, who falls deeply in love with fellow Cambridge student Jane Wilde. Once a healthy, active young man, Hawking received an earth-shattering diagnosis at 21 years of age. With Jane fighting tirelessly by his side, Stephen embarks on his most ambitious scientific work, studying the very thing he now has precious little of - time. Together, they defy impossible odds, breaking new ground in medicine and science, and achieving more than they could ever have dreamed. The film is based on the memoir Travelling to Infinity: My Life with Stephen, by Jane Hawking, and is directed by Academy Award winner James Marsh ("Man on Wire"). (c) Focus

Rated PG-13, Run Time: 2 hrs. 3 mins.
Official Website

NOW SHOWING UPSTAIRS IN THE LOGE


Friday, Nov 28th: 4:00, 9:15
Saturday Nov 29th: 4:00, 9:15
Sunday, Nov 30th: 1:30

Tuesday, Dec 2nd: 8:00
Wednesday, Dec 3rd: 8:00

ONE WEEK!


This wickedly funny and precisely observed psychodrama tells the story of a model Swedish family—handsome businessman Tomas, his willowy wife Ebba and their two blond children—on a skiing holiday in the French Alps. The sun is shining and the slopes are spectacular but, during a lunch at a mountainside restaurant, an avalanche suddenly bears down on the happy diners. With people fleeing in all directions and his wife and children in a state of panic, Tomas makes a decision that will shake his marriage to its core and leave him struggling to reclaim his role as family patriarch. A critical favorite at the 2014 Cannes Film Festival, where it took the Jury Prize in Un Certain Regard. Written and directed by Ruben Östlund. (Partially subtitled)

Rated R, Run Time: 1 hr. 58 min.
Official Website

Friday, Nov 28th: 6:45
Saturday Nov 29th: 6:45
Sunday, Nov 30th: 4:00
Monday, Dec 1st: 7:30 (Monday Show Downstairs)
Tuesday, Dec 2nd: 5:30
Wednesday, Dec 3rd: 5:30

FINAL SHOWS!

Birdman or (The Unexpected Virtue of Ignorance) is a black comedy that tells the story of an actor (Michael Keaton)—famous for portraying an iconic superhero—as he struggles to mount a Broadway play. In the days leading up to opening night, he battles his ego and attempts to recover his family, his career and himself. Also starring Zach Galifianakis, Andrea Riseborough, Amy Ryan, Emma Stone, Naomi Watts and Edward Norton, Birdman is directed and co-written by Alejandro González Iñárritu (Biutiful, Babel, 21 Grams, Amores Perros).

Rated R, Run Time: 1 hr 59 mins
Official Website




Friday, Nov 28th: 1:30
Saturday Nov 29th: 1:30
Sunday, Nov 30th: 6:30

FINAL SHOW!


Rosewater is based on The New York Times best-selling memoir "Then They Came for Me: A Family's Story of Love, Captivity, and Survival," written by Maziar Bahari. The film marks the directorial debut of "The Daily Show" host Jon Stewart, and stars Gael García Bernal. Rosewater follows the Tehran-born Bahari, a broadcast journalist with Canadian citizenship. In June 2009, Bahari returned to Iran to interview Mir-Hossein Mousavi, who was the prime challenger to president Mahmoud Ahmadinejad. As Mousavi's supporters rose up to protest Ahmadinejad's victory declaration hours before the polls closed, Bahari endured personal risk by sending footage of the street riots to the BBC. Bahari was arrested by police, led by a man identifying himself only as "Rosewater," who tortured and interrogated him over the next 118 days. With Bahari's wife leading an international campaign to have her husband freed, and Western media outlets keeping the story alive, Iranian authorities released Bahari on $300,000 bail and the promise he would act as a spy for the government. (C) Open Road Films

Unrated, Run Time: 1 hr 43 mins
Official Website
---
---
UPCOMING EVENTS
CAMEO Art House &
The Rooster's Wife are teaming up to bring live music to downtown Fayetteville!

UPCOMING CONCERTS:


Dec. 4th
Al Petteway and Amy White
Jan. 1st
Onyx Club Boys


Click on the band
for more info!