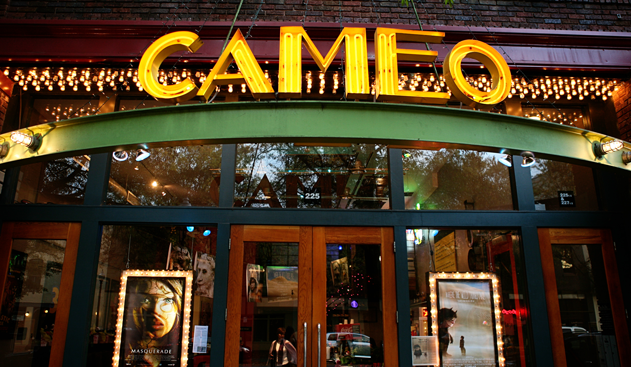 NOW SHOWING IN OUR MAIN AUDITORIUM:

Fri, Aug 1st:

3:30

,

6:00

,

8:45

Sat, Aug 2nd:

1:00

,

3:30

,

6:00

,

8:45

Sun, Aug 3rd:

1:00

,

3:30

,

6:00

Mon, Aug 4th -Thurs, Aug 7th:

5:30

,

8:00

Based on the bestselling novel by John le Carré and directed by Anton Corbijn (The American), this modern-day thriller begins when a mysterious man on the run (Grigoriy Dobrygin) arrives in Hamburg, Germany's Islamic community desperate for help. Nothing about this young man seems to add up; is he a victim or a thief or, worse still, an extremist intent on destruction? Drawn into this web of intrigue are a banker (Willem Dafoe) and a young lawyer (Rachel McAdams) determined to defend the defenseless. All the while, they are being watched by the brilliant, roguish chief of a covert German spy unit (Philip Seymour Hoffman), who fights to put the pieces together as the clock ticks. In an adrenaline-laced and heart-rending escalation of tension and collision, it's not long before he becomes everyone's most wanted man. A cerebral tale of intrigue in the vein of Tinker Tailor Soldier Spy, A Most Wanted Man is also deeply human, touching themes in love, rivalry and politics we live with every day.

Rated: R, Run Time: 2hr 1mins
Official Website

NOW SHOWING UPSTAIRS IN THE LOGE


Fri, Aug 1st: 4:00
Sat, Aug 2nd: 4:00

Mon, Aug 4th:

5:15

Wed, Aug 6th:

5:15

The latest film from writer-director John Carney (ONCE), BEGIN AGAIN is a soul-stirring comedy about what happens when lost souls meet and make beautiful music together. Gretta (Keira Knightley) and her long-time boyfriend Dave (Adam Levine) are college sweethearts and songwriting partners who decamp for New York when he lands a deal with a major label. But the trappings of his new-found fame soon tempt Dave to stray, and a reeling, lovelorn Gretta is left on her own. Her world takes a turn for the better when Dan (Mark Ruffalo), a disgraced record-label exec, stumbles upon her performing on an East Village stage and is immediately captivated by her raw talent. From this chance encounter emerges an enchanting portrait of a mutually transformative collaboration, set to the soundtrack of a summer in New York City. BEGIN AGAIN is produced and financed by Exclusive Media and produced by Anthony Bregman, Tobin Armbrust and Judd Apatow.

Rated R, Run Time: 1 hrs 41 mins
Official Website

Fri, Aug 1st:

6:30

,

9:15

Sat, Aug 2nd:

6:30

,

9:15

Mon, Aug 4th -Thurs, Aug 7th:

7:45

Filmmaker Zach Braff's follow-up to his indie breakout hit Garden State is a funny, touching, universal dramatic comedy about what it means to be at a major crossroads as a parent, spouse and child—all at once. Aidan Bloom (Braff) and his wife Sarah (Kate Hudson) live in Los Angeles with their two children, Grace (Joey King) and Tucker (Pierce Gagnon). Sarah supports the family with her public service job, while struggling actor Aidan auditions and escapes into fantasies about being the futuristic space knight of his childhood dreams. When Aidan's ailing, widowed father Gabe (Mandy Patinkin, "Homeland") can no longer pay for his grandchildren's schooling, Aidan eschews cultural traditions and embarks on a chaotic attempt to home-school his kids. Aidan's curriculum for Grace and Tucker leads to some surprising self-discoveries for everyone, and causes him to reassess his life, his career and his family. Also starring Josh Gad.

Rated: R, Run Time: 1hr 47mins
Official Website

Tue, Aug 5th & Thur, Aug 7th:

5:15

Starting from scratch never tasted so good! In the hearty comedy Chef, Carl Casper (writer/director Jon Favreau) suddenly quits his job at a prominent Los Angeles restaurant after refusing to compromise his creative integrity for its controlling owner (Dustin Hoffman), and is left to figure out what's next. Finding himself in Miami, he teams up with his ex-wife (Sofia Vergara), his friend (John Leguizamo) and his son to launch a food truck. Taking to the road, Chef Carl goes back to his roots to reignite his passion for the kitchen—and zest for life and love. Also starring Bobby Cannavale, Scarlett Johansson, Oliver Platt and Robert Downey Jr.

Rated: R; Run Time: 1hr 55mins
Official Website
---
---
UPCOMING EVENTS
This Saturday,
August 2nd, 11 AM
This timely film tells the story of a shy sandwich-maker Mahoma, and his undocumented immigrant coworkers, who set out to end abusive conditions at a New York restaurant chain. This epic power struggle turns a single city block into a battlefield in America's new wage wars.

---
––