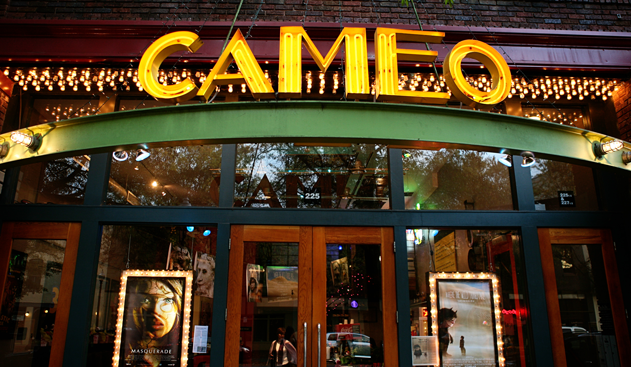 NOW SHOWING IN OUR MAIN AUDITORIUM:

Friday, Dec 19th: 4:00, 6:30, 9:15 (upstairs)
Saturday, Dec 20th: 1:30, 4:00, 6:30, 9:15 (upstairs)
Sunday, Dec 21st: 1:30, 4:00, 6:30 (upstairs)

Monday, Dec 22nd & Tuesday, Dec 23rd:
2:45, 5:15, 7:45

Wednesday, Dec 24th: 2:00, 4:30
Thursday, Dec 25th: 4:30, 7:00

In Wild, director Jean-Marc Vallée (Dallas Buyers Club, The Young Victoria), Academy Award winner Reese Witherspoon (Walk the Line) and Academy Award nominated screenwriter Nick Hornby (An Education) bring bestselling author Cheryl Strayed's extraordinary and inspirational adventure to the screen. After years of reckless behavior, a heroin addiction and the destruction of her marriage, Strayed (Witherspoon) makes a rash decision. Haunted by memories of her mother Bobbi (Academy Award nominee Laura Dern) and with absolutely no experience, she sets out to hike more than a thousand miles on the Pacific Crest Trail all on her own. Wild powerfully reveals her terrors and pleasures—as she forges ahead on a journey that maddens, strengthens and ultimately heals her.

Rated R, Run Time: 1hr 55mins
Official Website

Friday, Dec 19th: 9:30
Saturday, Dec 20th: 9:30

Sunday, Dec 21st: 7:00
Monday, Dec 22nd: 8:00
Tuesday, Dec 23rd: 8:00

Six years after the violent death of her husband, Amelia (Essie Davis) is at a loss. She struggles to discipline her 'out of control' 6 year-old, Samuel (Noah Wiseman), a son she finds impossible to love. Samuel's dreams are plagued by a monster he believes is coming to kill them both. When a disturbing storybook called 'The Babadook' turns up at their house, Samuel is convinced that the Babadook is the creature he's been dreaming about. His hallucinations spiral out of control, he becomes more unpredictable and violent. Amelia, genuinely frightened by her son's behaviour, is forced to medicate him. But when Amelia begins to see glimpses of a sinister presence all around her, it slowly dawns on her that the thing Samuel has been warning her about may be real. (C) IFC

Rated NR, Run Time: 1 hr 34 mins
Official Website


NOW SHOWING UPSTAIRS IN THE LOGE


Friday, Dec 19th: 3:30
Saturday, Dec 20th: 1:00, 6:45
Sunday, Dec 21st: 1:00

Monday, Dec 22nd & Tuesday, Dec 23rd:
5:30

Wednesday, Dec 24th: 2:30
Thursday, Dec 25th: 5:00
Final Show!

Starring Eddie Redmayne ("Les Misérables") and Felicity Jones ("The Amazing Spider-Man 2"), this is the extraordinary story of one of the world's greatest living minds, the renowned astrophysicist Stephen Hawking, who falls deeply in love with fellow Cambridge student Jane Wilde. Once a healthy, active young man, Hawking received an earth-shattering diagnosis at 21 years of age. With Jane fighting tirelessly by his side, Stephen embarks on his most ambitious scientific work, studying the very thing he now has precious little of - time. Together, they defy impossible odds, breaking new ground in medicine and science, and achieving more than they could ever have dreamed. The film is based on the memoir Travelling to Infinity: My Life with Stephen, by Jane Hawking, and is directed by Academy Award winner James Marsh ("Man on Wire"). (c) Focus

Rated PG-13, Run Time: 2 hrs. 3 mins.
Official Website



Friday, Dec 19th: 6:45
Saturday, Dec 20th: 3:30
Sunday, Dec 21st: 3:30

Monday, Dec 22nd & Tuesday, Dec 23rd: 3:00

Wednesday, Dec 24th: 5:00
Thursday, Dec 25th: 7:30
Final Show!

In his second outing as director after The Three Burials of Melquiades Estrada, actor/co-writer Tommy Lee Jones returns to the West with The Homesman. Three women living on the edge of the American frontier are driven mad by harsh pioneer life, and the task of saving them falls to the pious, independent-minded Mary Bee Cuddy (Hilary Swank, Academy Award winner for Million Dollar Baby and Boys Don't Cry). Transporting the women by covered wagon to Iowa, she is desperate for help on the daunting journey, and forces a low-life drifter, George Briggs (Jones), to join her. The unlikely pair and the three troublesome women (Grace Gummer, Miranda Otto, Sonja Richter) head east, where a waiting minister and his wife (Meryl Streep) have offered to take the women in. But the group first must traverse the harsh Nebraska Territories marked by stark beauty, psychological peril and constant threat.

Rated R, Run Time: 2 hrs
Official Website
---
---
UPCOMING EVENTS
CAMEO Art House &
The Rooster's Wife are teaming up to bring live music to downtown Fayetteville!

Click on the band
for more info!
---