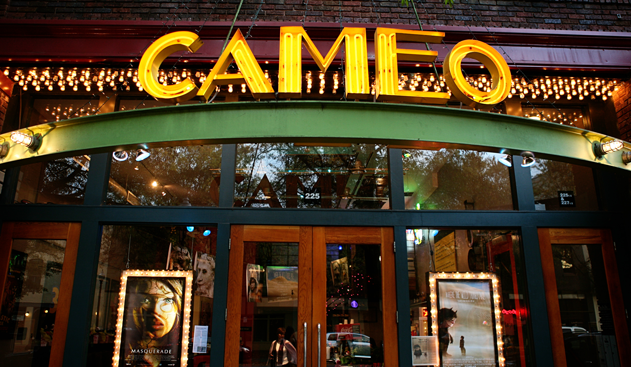 NOW SHOWING IN OUR MAIN AUDITORIUM:

Mon, Jan 26th -Thurs, Jan 29th:

5:15

Big Eyes, the eagerly-awaited new film from director Tim Burton (Alice in Wonderland, Ed Wood, Edward Scissorhands), is based on the true story of Walter Keane (Christoph Waltz, Oscar winner for Django Unchained and Inglourious Basterds), who was one of the most financially successful painters of the 1950s and early 1960s. The artist earned staggering notoriety by revolutionizing the commercialization and accessibility of popular art with his enigmatic (some said mesmerizing) paintings of waifs with big eyes. The public couldn't get enough of them. The truth would eventually be discovered though: Keane's art was not actually created by him at all, but by his wife, Margaret (Amy Adams, Oscar nominee for American Hustle, The Master, The Fighter, Doubt and Junebug). The Keanes, it seemed, had been living a lie that had grown to gigantic proportions. Big Eyes centers on Margaret's awakening as an artist and as an individual, the phenomenal success of her paintings, and her tumultuous relationship with her husband, who was catapulted to international fame while taking credit for her work. Also starring Jason Schwartzman, Krysten Ritter, Danny Huston and Terence Stamp. Screenplay by Scott Alexander and Larry Karaszewski (Ed Wood, The People vs. Larry Flynt).

Rated PG-13, Run Time: 1hr 49mins
Official Website

Mon, Jan 26th -Thurs, Jan 29th:

7:45

(Final Shows)




Based on true events, Foxcatcher tells the dark and fascinating story of the unlikely and ultimately tragic relationship between an eccentric multi-millionaire and two champion wrestlers. When Olympic Gold Medal-winning wrestler Mark Schultz (Channing Tatum) is invited by wealthy heir John du Pont (Steve Carell) to move on to the du Pont estate and help form a team to train for the 1988 Seoul Olympics at his new state-of-the-art training facility, Schultz jumps at the opportunity, hoping to focus on his training and finally step out of the shadow of his revered brother, Dave (Mark Ruffalo), also an Olympic Gold Medal winner. Driven by hidden needs, du Pont sees backing Mark's bid for Gold and the chance to "coach" a world-class wrestling team as an opportunity to gain the elusive respect of his peers and, more importantly, his disapproving mother (Vanessa Redgrave). Fueled by du Pont's increasing paranoia and alienation from the brothers, the trio is propelled towards a tragedy no one could have foreseen. Foxcatcher is a rich and moving story of brotherly love, misguided loyalty and the corruption and emotional bankruptcy that can accompany great power and wealth. Academy Award nominee Bennett Miller (Capote, Moneyball) once again explores large themes in society through his complex character portraits of real people. Winner of the Best Director award at the 2014 Cannes Film Festival.

Rated R, Run Time: 2hrs 14mins
Official Website

NOW SHOWING UPSTAIRS IN THE LOGE


Mon, Jan 26th -Thurs, Jan 29th: 5:30

FINAL SHOWS!

The Imitation Game is a dramatic portrayal of the life and work of one of Britain's most extraordinary unsung heroes, Alan Turing (Benedict Cumberbatch, The Fifth Estate, Star Trek Into Darkness, TV's "Sherlock"). Leading a motley crew of scholars, linguists, chess champions and intelligence officers, the loner mathematical genius was instrumental in cracking the code for Germany's World War II Enigma Machine, a seemingly impossible code that changed daily, and in the process became a pioneer of modern-day computing. Keira Knightley co-stars as a supportive friend on the code-breaking team who tries (but fails) to help him lead a more normal social life. Intercut with the life-and-death struggle to break the code are scenes from Turing's past, as an outcast at boarding school befriended by an older boy, and of the future and his disastrous encounter with the police in 1952, charged with the crime of homosexuality. An intense and haunting portrayal of a brilliant, complicated man, The Imitation Game follows a genius who under nail-biting pressure helped to shorten the war and, in turn, save thousands of lives. Also starring Charles Dance, Mark Strong and Matthew Goode. Directed by Morten Tyldum (Headhunters).

Rated PG-13, Run Time: 1 hr. 54 min.
Official Website

Mon, Jan 26th -Thurs, Jan 29th: 8:00
(Final Shows)

The gripping drama Whiplash stars Miles Teller (The Spectacular Now) as Andrew Neiman, a 19-year-old jazz drummer determined to rise to the top of the country's most elite music conservatory. One night, Terence Fletcher (J.K. Simmons), a conductor equally known for his talent for teaching as he is for the terrifying method of his instruction, discovers Andrew practicing the drums, and the next day requests that he be transferred into his band. At first, Andrew is an "alternate," confined to turning the pages of the "core" drummer, but at the band's next competition, the core drummer's sheet music is misplaced and Andrew gets the opportunity to play. Though the act further alienates him from his fellow musicians, the band nonetheless wins the competition, and he seems poised to become Fletcher's new "favorite son." Andrew's maniacal effort to achieve perfection is further fueled by Fletcher's psychological brinksmanship. The nearer to perfection Andrew gets, the narrower his circle of intimates becomes until he is left only with Fletcher—and even that relationship is jeopardized by the ferocity of Andrew's ambitions. A journey that can be seen alternately as a descent into madness or an ascent to greatness comes to a crescendo on the biggest platform for Andrew's talents—the unforgiving stage of Carnegie Hall. Winner of the Grand Jury Prize and Audience Award at the Sundance Film Festival.

Rated R, Run Time: 1hr 46mins
Official Website
---
---
UPCOMING EVENTS
CAMEO Art House &
The Rooster's Wife are teaming up to bring live music to downtown Fayetteville!

Click on the band
for more info!