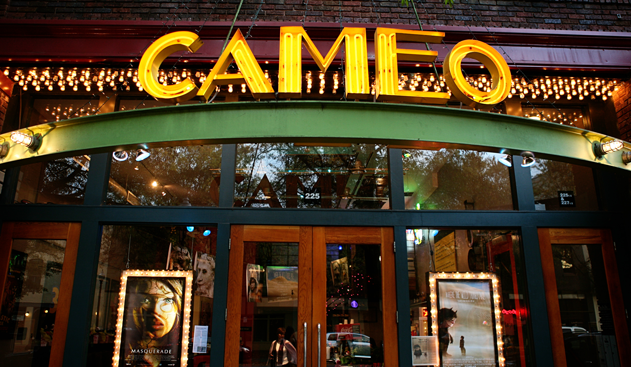 NOW SHOWING IN OUR MAIN AUDITORIUM:

Fri, Aug 22nd:

4:30

,

6:45

Sat, Aug 23rd:

2:15

,

6:45

Sun, Aug 24th:

1:00

,

5:30

,

7:45

Mon, Aug 25th & Tues, Aug 26th:

5:30

Wed, Aug 27th & Thurs, Aug 28th:

7:45

Set in the 1920s on the opulent Riviera in the south of France, Woody Allen's Magic in the Moonlight is a romantic comedy starring Colin Firth (The King's Speech) as Stanley Crawford, a master magician who tries to expose psychic medium Sophie Baker (Emma Stone) as a fake. Persuaded by his life-long friend (Simon McBurney), Stanley goes undercover on a mission to a Côte d'Azur mansion in order to debunk the alluring young clairvoyant, who is staying there with her mother (Marcia Gay Harden). From his very first meeting with Sophie, Stanley dismisses her as an insignificant pip-squeak who he can unmask in no time. To his great surprise and discomfort, however, Sophie accomplishes numerous feats of mind-reading and other supernatural deeds that defy all rational explanation, leaving him dumbfounded—and wondering whether Sophie's powers could actually be real.

Sat, Aug 23rd:

4:30

,

9:00

Mon, Aug 25th & Tues, Aug 26th:

7:45

Wed, Aug 27th & Thurs, Aug 28th:
5:30

One Week!

Mood Indigo is a true return to form for filmmaker Michel Gondry (The Science of Sleep, Eternal Sunshine of the Spotless Mind), exploring the vast landscape of human emotion and imagination. Set in a charmingly surreal Paris, this tragicomic, visionary and romantic love story stars Romain Duris (Populaire, The Beat That My Heart Skipped) as wealthy bachelor Colin, whose hobbies include developing his pianocktail (a cocktail-making piano) and devouring otherworldly dishes prepared by his trusty chef Nicolas (Omar Sy, The Intouchables). When Colin learns that his best friend Chick (Gad Elmaleh, The Valet), a fellow acolyte of the philosopher Jean-Sol Partre, has a new American girlfriend, our lonely hero attends a friend's party in hopes of falling in love himself. He soon meets Chloé (Audrey Tautou, Amélie, Coco Before Chanel) and, before they know it, they're dancing to Duke Ellington and plunging headfirst into a romance that Gondry rapturously depicts as only he can. But their whirlwind courtship is tested when an unusual illness plagues Chloe and a flower begins to grow in her lungs. (Fully subtitled)

Rated NR, Run Time: 1hr 34mins
Official Website

NOW SHOWING UPSTAIRS IN THE LOGE

Fri, Aug 22nd:

2:45

,

6:00

,

9:15

Sat, Aug 23rd:

2:45

,

6:00

,

9:15

Sun, Aug 24th:

12:30

,

3:45

,

7:00

Mon, Aug 25th - Thurs, Aug 28th:

7:15

Filmed over 12 years with the same cast, Boyhood by writer/director Richard Linklater (director and co-writer of Before Midnight) is a groundbreaking story of growing up as seen through the eyes of a child named Mason (a breakthrough performance by Ellar Coltrane), who literally grows up on screen before our eyes. Starring Ethan Hawke and Patricia Arquette as Mason's parents and newcomer Lorelei Linklater as his sister Samantha, Boyhood charts the rocky terrain of childhood like no other film has before. Snapshots of adolescence from road trips and family dinners to birthdays and graduations and all the moments in between become transcendent, set to a soundtrack spanning the years from Coldplay's "Yellow" to Arcade Fire's "Deep Blue." Boyhood is both a nostalgic time capsule of the recent past and an ode to growing up and parenting. It's impossible to watch Mason and his family without thinking about our own journey.

Run Time: 2hr 43mins
Official Website
---
---
UPCOMING EVENTS
CAMEO
LIVE CONCERT
SERIES
CAMEO Art House &
The Rooster's Wife are teaming up to bring live music to downtown Fayetteville!

$12 adv/$15 day of and online
Click on each band for more info!