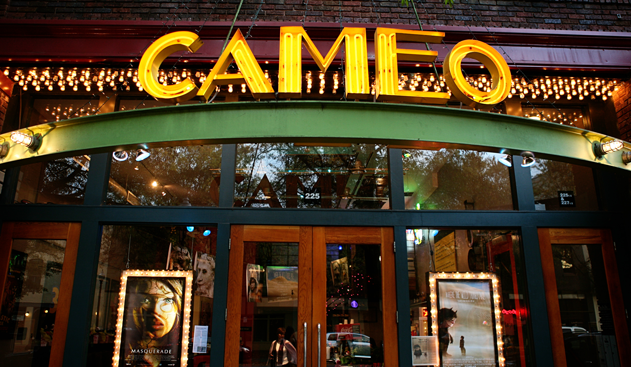 NOW SHOWING IN OUR MAIN AUDITORIUM:

Wed, July 23rd-Thurs, July 24th:

5:30

,

7:45

*Moves Upstairs Thursday

The latest film from writer-director John Carney (ONCE), BEGIN AGAIN is a soul-stirring comedy about what happens when lost souls meet and make beautiful music together. Gretta (Keira Knightley) and her long-time boyfriend Dave (Adam Levine) are college sweethearts and songwriting partners who decamp for New York when he lands a deal with a major label. But the trappings of his new-found fame soon tempt Dave to stray, and a reeling, lovelorn Gretta is left on her own. Her world takes a turn for the better when Dan (Mark Ruffalo), a disgraced record-label exec, stumbles upon her performing on an East Village stage and is immediately captivated by her raw talent. From this chance encounter emerges an enchanting portrait of a mutually transformative collaboration, set to the soundtrack of a summer in New York City. BEGIN AGAIN is produced and financed by Exclusive Media and produced by Anthony Bregman, Tobin Armbrust and Judd Apatow.

Rated R, Run Time: 1 hrs 41 mins
Official Website

NOW SHOWING UPSTAIRS IN THE LOGE

Wed, July 23rd-Thurs, July 24th: 8:00
*Moves Downstairs Thursday

In this sci-fi epic from director Bong Joon Ho (The Host, Mother), a failed global-warming experiment kills off most life on the planet. The final survivors board the SNOWPIERCER, a train that travels around the globe via a perpetual-motion engine. When cryptic messages incite the passengers to revolt, the train thrusts full-throttle towards disaster.

Rated R, Run Time: 2 hrs 6 mins
Official Website

Thurs, July 24th: 5:15
*Moves Downstairs Thursday

Starting from scratch never tasted so good! In the hearty comedy Chef, Carl Casper (writer/director Jon Favreau) suddenly quits his job at a prominent Los Angeles restaurant after refusing to compromise his creative integrity for its controlling owner (Dustin Hoffman), and is left to figure out what's next. Finding himself in Miami, he teams up with his ex-wife (Sofia Vergara), his friend (John Leguizamo) and his son to launch a food truck. Taking to the road, Chef Carl goes back to his roots to reignite his passion for the kitchen—and zest for life and love. Also starring Bobby Cannavale, Scarlett Johansson, Oliver Platt and Robert Downey Jr.

Rated: R; Run Time: 1hr 55mins
Official Website

FINAL SHOW

Third Person tells three stories of love, passion, trust and betrayal, in a multi-strand story line reminiscent of writer/director Paul Haggis' Oscar-winning film Crash. The tales play out in New York, Paris and Rome: three couples who appear to have nothing related but share deep commonalities: lovers and estranged spouses, children lost and found. Michael (Liam Neeson) is a Pulitzer Prize-winning fiction author who has holed himself up in a hotel suite in Paris to finish his latest book. He recently left his wife, Elaine (Kim Basinger), and is having a tempestuous affair with Anna (Olivia Wilde), an ambitious young journalist who wants to write and publish fiction. At the same time, Scott (Adrien Brody), a shady American businessman, is in Italy to steal designs from fashion houses. He meets Monika (Moran Atias), a beautiful Roma woman, with whom he travels to a dangerous town in Southern Italy, where Scott starts to suspect that he is the patsy in an elaborate con game. Meanwhile Julia (Mila Kunis), an ex-soap opera actress, is caught in a custody battle for her 6-year-old son with her ex-husband Rick (James Franco), a famous New York artist. With her support cut off and her legal costs ruinous, Julia is reduced to working as a maid in the same upscale boutique hotel where she was once a frequent guest. Also starring Maria Bello and Loan Chabanol.
---
---
UPCOMING EVENTS
SUMMER CLASSIC
SPECIAL SCREENING




Saturday, July 26th at 11 AM
$8; $5 Cameo Members
This is a 50th anniversary digital restoration of one of the most sweeping epics in film history!

---
---