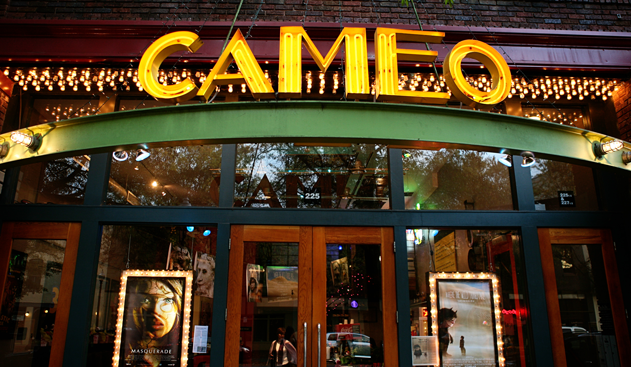 NOW SHOWING IN OUR MAIN AUDITORIUM:

Thurs, Oct 30th:

5:15

,

8:00


FINAL SHOW!

Pride is an inspirational comedy based on a true story about finding hope and friendship where you least expect it. It's the summer of 1984, Margaret Thatcher is in power and the National Union of Mineworkers is on strike, prompting a London-based group of gay and lesbian activists to raise money to support the strikers' families. Initially rebuffed by the Union, the group identifies a tiny mining village in Wales and sets off to make their donation in person. As the strike drags on, the two groups discover that standing together makes for the strongest union of all. Starring Bill Nighy, Imelda Staunton, Dominic West and Paddy Considine, Pride is directed by Matthew Warchus.

Rated R Run Time: 2 hrs
Official Website

NOW SHOWING UPSTAIRS IN THE LOGE


Wed, Oct 29th: 5:30, 7:45
Thurs, Oct 30th: 5:30, 7:45

Fri, Oct 31st:

4:00

,

6:30

,

9:00

Sat, Nov 1st:

1:30

,

4:00

,

6:30

,

9:00

Sun, Nov 2nd:

1:30

,

4:00

,

6:30

Mon, Nov 3rd - Wed, Nov 5th:

7:00

Thurs, Nov 6th:

5:30

Final Shows!

The singular Bill Murray stars in the comical story of a young boy who develops an unusual friendship with the cantankerous old guy next door. Maggie (Melissa McCarthy), a single mother, moves into a new home in Brooklyn with her 12-year-old son, Oliver (Jaeden Lieberher). Forced to work long hours, she has no choice but to leave Oliver in the care of their new neighbor, Vincent (Murray), a retired curmudgeon with a penchant for alcohol and gambling. An odd friendship soon blossoms between the improbable pair. Together with a pregnant stripper named Daka (Naomi Watts), Vincent brings Oliver along on all the stops that make up his daily routine—the race track, a strip club and the local dive bar. Vincent helps Oliver grow to become a man, while Oliver begins to see in Vincent something that no one else is able to: a misunderstood man with a good heart. Written and directed by Theodore Melfi.

Rated PG-13, Run Time: 1hr 36mins
Official Website
---
---
UPCOMING EVENTS

CAMEO Art House &
The Rooster's Wife are teaming up to bring live music to downtown Fayetteville!


Click on each band
for more info!