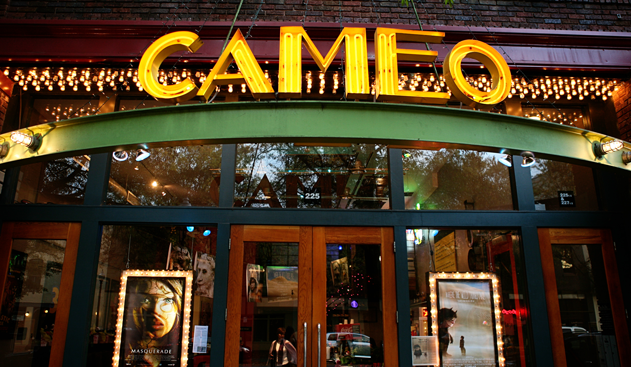 NOW SHOWING IN OUR MAIN AUDITORIUM:

Monday, Nov 24th & Tuesday, Nov 25th: 4:15
FINAL SHOWS!

Laggies is a sweet, romantic coming-of-age comedy about three people who find their lives intertwined in the most unconventional way as they make their way through the imperfect realities of modern day life. Overeducated and underemployed, 28-year-old Megan (Keira Knightley) is in the throes of a quarterlife crisis. Squarely into adulthood with no career prospects, no particular motivation to think about her future and no one to relate to, Megan is comfortable lagging a few steps behind—while her friends check off milestones and celebrate their new grown-up status. When her high-school sweetheart (Mark Webber) proposes, Megan panics and—given an unexpected opportunity to escape for a week—hides out in the home of her new friend, 16-year-old Annika (Chloë Grace Moretz) and Annika's world-weary single dad Craig (Sam Rockwell). Keira Knightley shines as Megan, a rare female slacker hero who shows us that while you never stop growing up, you can choose to stop lagging, and start living on your terms. Directed by Lynn Shelton, whose unique voice created such astutely observed comedies as Your Sister's Sister and Humpday.

Rated R, Run Time: 1 hr. 40 min.
Official Website

Sunday, Nov 23rd: 7:00
Monday, Nov 24th & Tuesday, Nov 25th: 8:30

FINAL SHOWS

Rosewater is based on The New York Times best-selling memoir "Then They Came for Me: A Family's Story of Love, Captivity, and Survival," written by Maziar Bahari. The film marks the directorial debut of "The Daily Show" host Jon Stewart, and stars Gael García Bernal. Rosewater follows the Tehran-born Bahari, a broadcast journalist with Canadian citizenship. In June 2009, Bahari returned to Iran to interview Mir-Hossein Mousavi, who was the prime challenger to president Mahmoud Ahmadinejad. As Mousavi's supporters rose up to protest Ahmadinejad's victory declaration hours before the polls closed, Bahari endured personal risk by sending footage of the street riots to the BBC. Bahari was arrested by police, led by a man identifying himself only as "Rosewater," who tortured and interrogated him over the next 118 days. With Bahari's wife leading an international campaign to have her husband freed, and Western media outlets keeping the story alive, Iranian authorities released Bahari on $300,000 bail and the promise he would act as a spy for the government. (C) Open Road Films

Unrated, Run Time: 1 hr 43 mins
Official Website

TWO SHOWS ADDED
Monday, Nov 24th & Tuesday, Nov 25th at 6:30

All tickets $9

Meet the Mormons examines the very diverse lives of six devout Mormons. Filmed on location and across the globe, Meet the Mormons takes viewers on a journey into the day-to-day realities of individuals living in the U.S., Costa Rica, Nepal and beyond. From their individual passions to their daily struggles, each story paints a picture as rich and unique as the next while challenging the stereotypes that surround the Mormon faith. (C) Official Site

Rated PG, Run Time: 1 hr 18 mins
Official Website

Wednesday, Nov 26th & Thursday, Nov 27th:
4:30, 7:30

Starring Eddie Redmayne ("Les Misérables") and Felicity Jones ("The Amazing Spider-Man 2"), this is the extraordinary story of one of the world's greatest living minds, the renowned astrophysicist Stephen Hawking, who falls deeply in love with fellow Cambridge student Jane Wilde. Once a healthy, active young man, Hawking received an earth-shattering diagnosis at 21 years of age. With Jane fighting tirelessly by his side, Stephen embarks on his most ambitious scientific work, studying the very thing he now has precious little of - time. Together, they defy impossible odds, breaking new ground in medicine and science, and achieving more than they could ever have dreamed. The film is based on the memoir Travelling to Infinity: My Life with Stephen, by Jane Hawking, and is directed by Academy Award winner James Marsh ("Man on Wire"). (c) Focus

Rated PG-13, Run Time: 2 hrs. 3 mins.
Official Website

NOW SHOWING UPSTAIRS IN THE LOGE


Friday, Nov 21st: 4:00, 6:30, 9:00
Saturday, Nov 22nd: 1:30, 4:00, 6:30, 9:00
Sunday, Nov 23rd: 1:30, 4:00, 6:30
Monday, Nov 24th -Thursday, Nov 27th: 5:15, 8:00

Birdman or (The Unexpected Virtue of Ignorance) is a black comedy that tells the story of an actor (Michael Keaton)—famous for portraying an iconic superhero—as he struggles to mount a Broadway play. In the days leading up to opening night, he battles his ego and attempts to recover his family, his career and himself. Also starring Zach Galifianakis, Andrea Riseborough, Amy Ryan, Emma Stone, Naomi Watts and Edward Norton, Birdman is directed and co-written by Alejandro González Iñárritu (Biutiful, Babel, 21 Grams, Amores Perros).

Rated R, Run Time: 1 hr 59 mins
Official Website



---
---
UPCOMING EVENTS
TWO SHOWS ADDED
Nov 24th & Nov 25th at 6:30

All tickets $9
Official Website
---
CAMEO Art House &
The Rooster's Wife are teaming up to bring live music to downtown Fayetteville!

UPCOMING CONCERTS:


Dec. 4th
Al Petteway and Amy White
Jan. 1st
Onyx Club Boys


Click on the band
for more info!