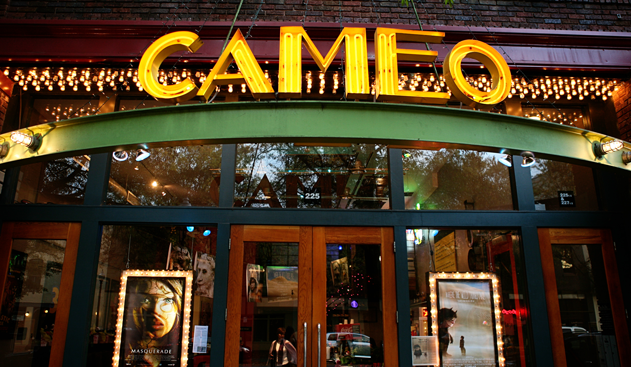 NOW SHOWING IN OUR MAIN AUDITORIUM:
Tues, Sept 23rd - Thurs, Sept 25th:
5:15, 7:45

THE DROP is a new crime drama from Michaël R. Roskam, the Academy Award nominated director of Bullhead. Based on a screenplay from Dennis Lehane (Mystic River, Gone Baby Gone), THE DROP follows lonely bartender Bob Saginowski (Tom Hardy) through a covert scheme of funneling cash to local gangsters - "money drops" in the underworld of Brooklyn bars. Under the heavy hand of his employer and cousin Marv (James Gandolfini), Bob finds himself at the center of a robbery gone awry and entwined in an investigation that digs deep into the neighborhood's past. Also featuring Noomi Rapace, Matthias Schoenaerts, Ann Dowd and John Ortiz. (C) Fox Searchlight

NOW SHOWING UPSTAIRS IN THE LOGE



Tues, Sept 23rd - Thurs, Sept 25th: 5:30
Final Week!

Michael Winterbottom's largely improvised 2010 film The Trip took comedians Steve Coogan and Rob Brydon—or semifictionalized versions thereof—on a restaurant tour around northern England. In this witty and incisive follow-up, Winterbottom reunites the pair for a new culinary road trip, retracing the steps of the Romantic poets' grand tour of Italy and indulging in some sparkling banter and impersonation-offs. Re-whetting our palates from the earlier film, the characters enjoy mouthwatering meals in gorgeous settings from Liguria to Capri while riffing on subjects as varied as Batman's vocal register, the artistic merits of "Jagged Little Pill," and, of course, the virtue of sequels. Winterbottom trains his camera to capture the idyllic Italian landscape and the gastronomic treasures being prepared and consumed while keeping the film centered on the crackling chemistry between the two leads. The Trip to Italy effortlessly melds the brilliant comic interplay between Coogan and Brydon into quieter moments of self-reflection, letting audiences into their insightful ruminations on the nuances of friendship and the juggling of family and career. The result is a biting portrait of modern-day masculinity.

Rated NR, Run Time: 1hr 48mins
Official Website

Tues, Sept 23rd - Thurs, Sept 25th:


8:00



One Week!

Terry Gilliam (Brazil, 12 Monkeys, Fear and Loathing in Las Vegas)'s madcap science fiction epic The Zero Theorem stars two- time Academy Award-winner Christoph Waltz as Qohen Leth, an eccentric and reclusive computer genius plagued with existential angst. Living in isolation in a burnt-out church, Qohen is obsessively working on a mysterious project personally delegated to him by Management (Matt Damon) aimed at discovering the meaning of life - or the complete lack of one - once and for all.

Rated NR, Run Time: 1hr 47mins
Official Website
---
---
UPCOMING EVENTS

CAMEO
LIVE CONCERT
SERIES

CAMEO Art House &

The Rooster's Wife

are teaming up to bring live music to downtown Fayetteville!

$12 adv/$15 day of and online Click on each band for more info!
---
ANNUAL ZOMBIE
WALK FEATURE
4TH FRIDAY, OCTOBER 24TH, 9:30
Encore Screening OCTOBER 25TH, 9:30