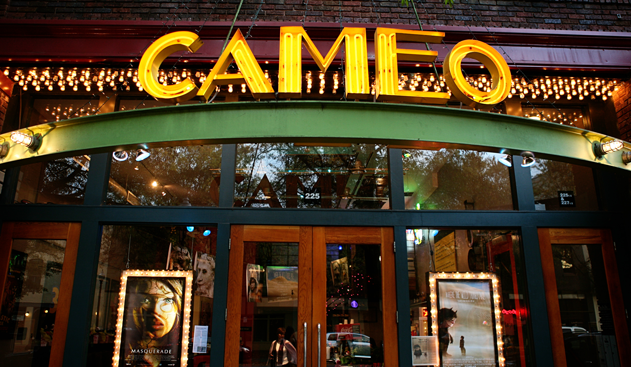 NOW SHOWING IN OUR MAIN AUDITORIUM:

Fri, Jan 30th: 8:00
Sat, Jan 31st: 5:30, 8:30
Sun, Feb 1st: 3:30, 6:30
Mon, Feb 2nd - Thurs, Feb 5th: 7:00

The comedy-thriller Inherent Vice is the seventh feature from writer/director Paul Thomas Anderson (The Master, There Will Be Blood, Boogie Nights) and the first ever film adaption of a Thomas Pynchon novel. Doc Sportello (Joaquin Phoenix) is a private eye whose ex-old lady (Katherine Waterston) suddenly shows up with a story about her current billionaire boyfriend (who she happens to be in love with). She claims his wife and her boyfriend plan to kidnap the billionaire and throw him in a loony bin... and she needs Doc's help. It's the tail end of the psychedelic '60s and paranoia is running the day and Doc knows that "love" is another of those words going around at the moment, like "trip" or "groovy," that's being way too overused—except this one leads to trouble. With a cast of characters that includes surfers, hustlers, dopers and rockers, a murderous loan shark, LAPD Detectives, a tenor sax player working undercover, and a mysterious entity known as the Golden Fang, which may only be a tax dodge set up by some dentists, Inherent Vice is part surf noir, part psychedelic romp and all Thomas Pynchon! All-star cast also includes Josh Brolin, Owen Wilson, Reese Witherspoon, Benicio Del Toro, Jena Malone, Maya Rudolph and Martin Short. Academy Award nominee for Best Costume Design and Best Adapted Screenplay.

Rated R, Run Time: 2hrs 28mins
Official Website

Fri, Jan 30th: 5:30
Sat, Jan 31st: 3:00
Sun, Feb 1st: 1:00
Thurs, Feb 5th: 4:00 FINAL SHOW


Big Eyes, the eagerly-awaited new film from director Tim Burton (Alice in Wonderland, Ed Wood, Edward Scissorhands), is based on the true story of Walter Keane (Christoph Waltz, Oscar winner for Django Unchained and Inglourious Basterds), who was one of the most financially successful painters of the 1950s and early 1960s. The artist earned staggering notoriety by revolutionizing the commercialization and accessibility of popular art with his enigmatic (some said mesmerizing) paintings of waifs with big eyes. The public couldn't get enough of them. The truth would eventually be discovered though: Keane's art was not actually created by him at all, but by his wife, Margaret (Amy Adams, Oscar nominee for American Hustle, The Master, The Fighter, Doubt and Junebug). The Keanes, it seemed, had been living a lie that had grown to gigantic proportions. Big Eyes centers on Margaret's awakening as an artist and as an individual, the phenomenal success of her paintings, and her tumultuous relationship with her husband, who was catapulted to international fame while taking credit for her work. Also starring Jason Schwartzman, Krysten Ritter, Danny Huston and Terence Stamp. Screenplay by Scott Alexander and Larry Karaszewski (Ed Wood, The People vs. Larry Flynt).

Rated PG-13, Run Time: 1hr 49mins
Official Website

NOW SHOWING UPSTAIRS IN THE LOGE


Fri, Jan 30th: 6:00, 9:00
Sat, Jan 31st: 3:15, 6:00, 9:00
Sun, Feb 1st: 1:30, 4:15, 7:00
Mon, Feb 2nd - Wed, Feb 4th: 7:15
Thurs, Feb 5th: 4:30


A Most Violent Year is a searing crime drama set in New York City during the winter of 1981, statistically the most dangerous year in the city's history. Starring Oscar Isaac (Inside Llewyn Davis) and Jessica Chastain (Zero Dark Thirty), this gripping story plays out within a maze of rampant political and industry corruption plaguing the streets of a city in decay. Writer/director J.C. Chandor's (All Is Lost, Margin Call) third feature examines one immigrant's determined climb up a morally crooked ladder, where simmering rivalries and unprovoked attacks threaten his business, family and—above all—his own unwavering belief in the righteousness of his path. With A Most Violent Year, Chandor journeys in a bold new direction, toward the place where best intentions yield to raw instinct, and where we are most vulnerable to compromise what we know to be right. Also starring David Oyelowo (Selma), Alessandro Nivola and Albert Brooks.

Rated R, Run Time: 2hrs 5mins
Official Website
---
---
UPCOMING EVENTS
CAMEO Art House &
The Rooster's Wife are teaming up to bring live music to downtown Fayetteville!

Click on the band
for more info!